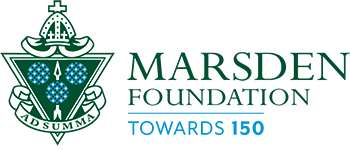 Hangaia te tautōhito, whakangao ngā anamata
The Marsden Foundation is committed to the long term prosperity of Marsden and plays an important role in providing access to a high quality Marsden education for current and future students.
The official launch of the Marsden Foundation in early 2022 was the first step in an exciting journey towards supporting current and future generations of Marsden students. The Foundation will provide opportunities for our Marsden community to invest in the ongoing development, innovation and quality of all parts of school life – including our campus, quality teaching, innovative curriculum and engagement with the wider community. A key initial goal of the Marsden Foundation is to fund student scholarships but there are many other opportunities to support other areas of the school and its students.

The Samuel Marsden Collegiate School Trust Board is a Registered Charitable Trust CC30115 and all donations to the Marsden Foundation of $5 and above may be tax deductible.

Marsden Foundation Scholarships
Give the gift of education and opportunity.
GIFT A MARSDEN FOUNDATION SCHOLARSHIP
Donating a school scholarship to help a student fulfil their potential and achieve their dreams is one of the most life-changing gifts you can give.
Investing in a girl's secondary education creates a legacy of hope that will never be lost. It is one of the most transformative strategies we can deliver that helps girls to succeed in their learning and lives.
The Marsden Foundation supports a range of scholarships that attract motivated and talented students to Marsden.
With your help we can offer these scholarships so that more girls, from all walks of life, can experience the range of educational and co-curricular opportunities central to the Marsden experience.
Every student deserves the opportunity to realise her full potential and live a life of meaning, accomplishment and genuine happiness. Marsden scholarships encourage both diversity and excellence within our community.





Paula Wells, Principal 2022